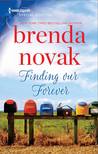 Finding Our Forever
by
Brenda Novak
My rating:
4 of 5 stars
Cora was adopted at birth and has been in search of her biological mother. Upon finding out whom she is Cora files for employment at New Horizon's Boys Home. Cora went to New Horizon in hopes of connecting with her birth mother, instead she found romance with her adopted brother. Mind you she was not raised with this man and rember they have no blood relation.
Elijah has been hurt by any woman whom he has trusted other than his adopted mother and refuses to let other's in. Yet for some reason Cora breaks down his wall. Elijah just wants to help build the Boys home and show his support to helping the boys turn around their lives.
The relationship Cora and Elijah build is fast and intense. The I enjoyed the fact that this was a true love story. We didn't have your typical break scene where the couple has to find the way back this couple just continued to grow stronger throughout the time they had together. If you want a read that is well written with a love story as well as having great morals this book is for you. I loved my introduction to New Horizon boy's home as well as Silver Springs and can not wait to see what else Brenda has up her sleeve for the rest of the Silver Springs series!
View all my reviews