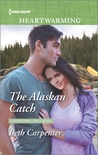 The Alaskan Catch
by
Beth Carpenter
My rating:
4 of 5 stars
A heartwarming novel about creating your own future and not living in the crux your family has left for you. This novel has a lot to learn about appearances not always being what they seem and just possibly our parents have learnt from something in their own past to guide them in the directions they try and push us into following. Everything in life is not as you expect it to be.
Dana always wanted her family to notice her. She was the perfect daughter and followed all directions. So she needed to understand why her brother had walked away from the family and never looked back. She knew her family had it's own problems but nothing could be bad enough to keep her brother away for years and not even come home for her father's funeral.
Sam had built himself up from pretty much being a homeless child whom took care of his mother. He created the man he was today even if he never knew his father and his mother was a drunk who eventually left him too. Sam was fueled by his career and nothing could possibly get in the way of his five year plan. He would soon be overseas and have the career of his dreams.
On Tour with

Prism Book Tours




The Alaskan Catch


(Northern Lights #1) by Beth Carpenter

Adult Contemporary Romance

Mass Market Paperback & ebook, 368 pages

August 1st 2017 by Harlequin Heartwarming

Where life's currents take you…

Dana Raynott just traveled 3,600 miles to reunite with the brother who changed his name and fled to Alaska nineteen years ago. It's impossible not to be moved by this wild, breathtaking state, even if Dana's no closer to finding the answers she came here for.

Her brother's best friend, Anchorage engineer Sam MacKettrick, might be able to help her. He's strong and kind—a six-foot, irresistible blend of diverse cultures. He's also haunted by a tragic family history with a startling connection to Dana's past…

Once upon a time ...




when

Beth Carpenter

was a little girl, she read everything she could get her hands on, and entertained herself on the school bus by making up stories in her head. Not a lot has changed. She's still consuming books like M&Ms, and spends her days creating happily-ever-afters for her imaginary friends.

She lives in Alaska and Arizona with her husband and an aggressively affectionate fifty-pound lap dog. She loves to hear from readers.

Taste of Alaska Prize Pack (US only), which includes:
Alaska cross-body bag
Wild Smoked Alaska Salmon for Dip
Alaska Wild Berry Company Bering Sea Salt Caramels
Gold Nugget Chocolate Chunks
Raspberry Herbal Tea
Salmon Jerky – Teriyaki and Original
Three Bears Postcard
Alaska Sourdough Starter
Moose Notecards by Alaskan Artist Vonnie Gaither
$25 Amazon Gift Card
(open internationally)

Ends August 22nd
View all my reviews